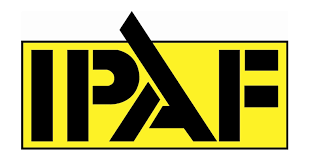 IPAF MEWPs
(Mobile Elevated Work Platforms)
MEWP is an overall name for powered access platforms which can refer to any type of Mobile Elevating Work Platform / Cherry Picker.
The IPAF 3a Operator category covers the safe use of Mobile Vertical machines generally called Scissor Lifts.
The IPAF 3b Operator category covers the safe use of Mobile Boom machines which are self-propelled booms and may be articulated or telescopic booms and can be driven at height.
The IPAF 1b Operator category covers Static Boom machines which are generally fitted with outriggers and cannot be driven while elevated. 1b Static Boom is an overall category name which includes Van-mounted booms, Truck-mounted booms, Trailer-mounted booms or Spider booms on tracks or wheels.
Our IPAF certified instructors will provide you with safety harness training, regulatory requirements, risk assessment, machine maintenance as well as options for a variety of access machinery that can be catered to your specific requirements.
Who Should Attend This Course:
This course is for anyone who may be required to operate Mobile Elevating Work Platforms (MEWPs).
Participants are required to have each of the following:
Personal Protective Equipment

Be medically fit to operate machinery.
Participants must also be at least 16 years old on the day of the course.
The training modules incorporated within this course are as follows: 
Module 1: Introduction
Module 2: Health & Safety Legislation
Module 3: Accident Prevention & Control
Module 4: Personal Protective Equipment (PPE)
Module 5: Operating Demonstration & Practice
Module 6: Pre-Use Checks & Daily Maintenance
Module 7: Emergency Procedures
Module 8: Operating Capacities & Limitations
Module 9:Fall Protection Equipment
Module 10: MEWP Spotter Duties
Course Aims & Objectives:
The overall objectives of this course are to:
Understand the relevant health and safety regulations
Identify accident prevention and control
Identify the needs regarding personnel protection
Drive the MEWP safely and manoeuvre it in a correct and proper manner, inside and outside a building
Carry out pre-use checks and daily maintenance before starting work
Carry out the correct emergency procedures and understand the capacities and limitations to enable safe operation
Understand selection and use of fall protection equipment.
1-day course through a mixture of classroom-based teaching and practical exercises.
IPAF theory and practical assessment.
On successful completion, participants will be awarded with a IPAF Certification which is valid for 5 years and is internationally recognised.